PC diagnostic post debug card of Sintech Debug Card Expert
Product description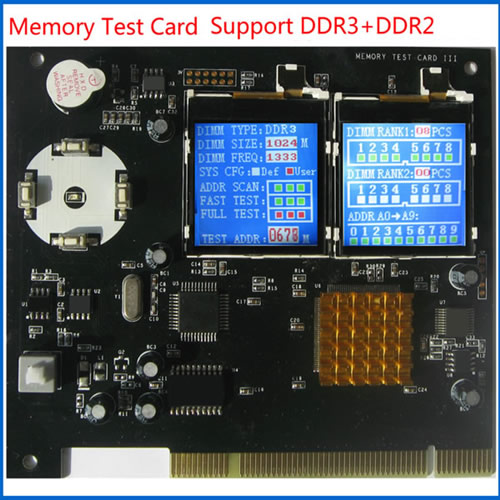 ST-MT35 PC DDR2 DDR3 memory test card for repair desktop and laptop DDR   
Specification & Features

ST-MT35 DDR memory test card for repair laptop and desktop DDR2/DDR3 is a good test tool when DDR memory test card is defective.It can suppport desktop DDR2/DDR3 and laptop DDR2/DDR3 memory card(need extra adapter to desktop DDR).Only with 1pc motherboard ,it can configure which flash chipset is damaged or these lines open circuit,then it is easy to repair the defective DDR memory card. It also can be used to test good working DDR memory card,it will show flash chip quantity,DDR card capacity.

Work with INTEL G41+ICH7 series motherboards, support desktop and notebook DDR2 and DDR3 DIMMs/SO-DIMMs (you need to buy extra laptop DDR to desktop DDR adapter card from us)
Support DDR2 with speed 667/800 and DDR3 with speed 800/1066/1333
Support to test the defect DIMM directly, and doesn't need to use a good DIMM to assist the test.
Test time is short, and it supports Fast Test Mode and Full Test Mode. It only needs several seconds to scan out the DIMM soldering problems when working in Fast Test Mode. Even working with Full Test mode, it can finish to test a 1G size DIMM in two or three minutes. For the DIMM, which passes the Full Test, it usually is able to boot the computer successfully.
It uses LCD to display the DIMM main parameters and the DIMM test result. And uses can get that information easily.
It can configure the DIMM test parameter automatically based all the various motherboards and DIMMs combinations so that all test can be run under optimized way.
Package content: 1x test card , 2x bios chipset (1pc for BGA, 1pc for Dip)

Verified motherboard Part-Number

1. MSI G41M-P43 Combo (DDR3+DDR2) --- Recommendation
2. ASUS P5G41T-M LX (DDR3) --- Recommendation
3. ONDATA G41C+ (DDR3+DDR2)
4. ASUS P5G41C-M LX (DDR3+DDR2)
5. GIGABYTE GA-P41-ES3G (DDR2)
6. more...

Want to know how it works,pls see beblow video:

.
---
[Home] [Profile] [

shop] [contact]
(C) Copyright 2006-2012, Shenzhen Sintech Electronic, Inc.
Email: sale@sintech.cn; MSN: feagle_liu@hotmail.com